Regular price
$129.99 USD
Sale price
$89.99 USD
Unit price
per
Sale
Sold out
Note: This heated vest is only available in US Warehouse, we could only ship to  US Based address.
The DUKUSEEK heated vest has 4 buttons on the upper left chest, which features separate heat by different areas. Customers can choose which part to be heated and heat together or separately. The DUKUSEEK heated apparel is a sign of performance, quality, style and innovation which you will just love to be seen wearing. Also it will makes you be never afraid of winter anymore. You will be always warm with this creative heating coat on.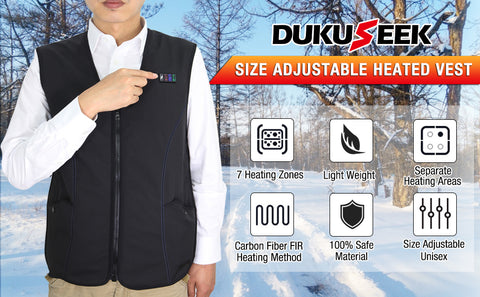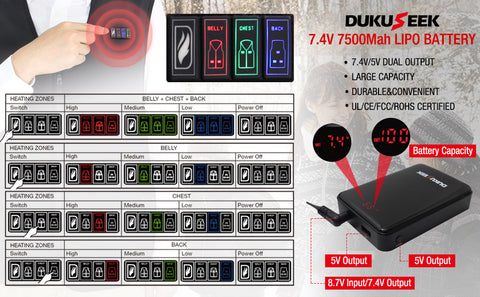 --Due to the close-fitting design, this heated vest is perfect to wear under a jacket or business suit.
--Unique 4-button temperature controller, different heating areas can be controlled by different buttons.
--Totally 7 heating pads, chest, abdomen, waist, back can be heated.
--7.4V 7500mAh large-capacity lithium battery, support longer working time.
Main Features:
★ 【7 Heating Panels & Dependent Control Design】- The heated vest has totally 7 heat panels, different heating areas are controlled by different buttons. Just simply click the specified buttons on the vest to choose the preferred heating zones (chest, abdomen, back and waist)and temperatures (113℉-131℉-149℉).
★ 【Size Adjustable】- This electric heating vest features a new size adjusting method, which could adjust the size more precisely. Comparing with original zipper adjustable style, the new version is greatly improved to have a more natural look and offers a wider adjusting rand (from S-XXXL). Unisex. For men, women and young adults. Perfect as birthday gift, thanksgiving gift and Christmas gift.
★【7.4V 7500mAH Rechargeable Lipo Battery】- The DUKUSEEK rechargeable heated vest is equipped with a premium 7.4V 7500mAh large capacity battery, comparing with other 5V batteries, the 7.4V one offers more power and longer working time to all the heating areas.
★【Enjoy a Warm Life in Cold Winters】- The DUKUSEEK heated vest helps promote blood circulation, perfect for outdoor activities like snowmobile, motorcycling, mountain climbing, camping, hiking, skiing, Fishing, Hunting or office routine and business use during fall and winter months.
★【Safety and Assurance】- DUKUSEEK size adjustable heated vest adopts TPU full insulation design. Built-in thermal protection module. Once it is overheat, it would stop until the heat return to the standard temperature.
Machine Washable
We`ve tested more than 50 consecutive wash cycles to ensure that the heating elements are not damaged by washing machine. Just make sure to use it when the jacket is completely dry. Better to scrub the DC interface each time after washing to clean impurities attached on it.
Package Included:
1 x DUKUSEEK Heated Vest
1 x 7.4V 7500Mah Lipo Battery  
1x 8.7V Battery Charger  
1x English Manual
FAQ:
Q: Why there is no response when I long press the battery?
A: Battery couldn`t work without connecting to any heating device. So, make sure your battery has already been plugged in.
Q: What is the correct step to clean the heated vest?
A: Remove battery, hand wash or machine wash (in laundry bag) in cold water. Do not twist or wring.
Q: How long will the battery be fully charged?
A: From empty, the battery will take roughly 8 hours to be fully charged.
Q: Can I use the 5V and 7.4V mode together?
A: No, the system can only recognize one mode, if 2 modes are used together, there is only one mode working.
Q: How to change between 5V and 7.4V mode?
A: Battery needs to be powered off to switch between 2 modes.
Share
View full details